Non ski activities
Ski resorts aren't just all about skiing...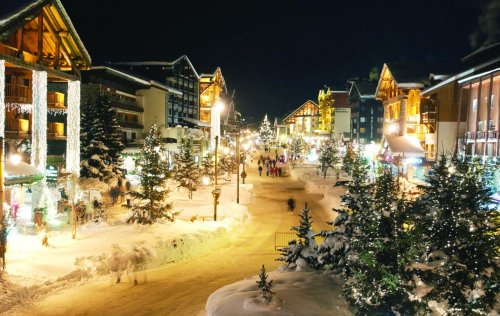 There's a lot do apart from skiing...
If you are a non-skier, have children to entertain, can't sit down or want to try something new, then read on!

You can find out about what's going on in the Resort Information Folder in your chalet.

If you'd like us to book any activities for you then please don't hesitate to ask your host

Please note that prices may vary
Val d'Isere
Sports Centre
Val d'Isère boasts a great Centre Aquasportif – just underneath the Olympic station. You're entitled to 1 free entry to the pool with a valid 2-15 day Espace Killy ski pass, just take your lift pass and receipt.

Ice Skating
Located in the centre of the village just behind the main road. Open daily from 10.00-12.00 and 17.30- 19.00 (subject to modification due to snow/cold conditions)
Tel: 04 79 22 82 05
Adult entry - €7, Child entry - €6 includes entry and skate hire.

Cinema
Films are shown at 18.00 and 20.30. If there is bad weather, then an additional film is shown at 14:30. Check online here for screening schedule. Films are shown in both French and English, 'VOST' means that the film is in its original language with French subtitles. Details in Val Scope or at the cinema entrance.
Tel: +33 4 79 06 03 43

Massage, physio, beauty therapy
We use various local companies. Please ask your Guest Services Manager or ring us in the UK office in advance if you have something specific you'd like booked.
Husky rides, quad bikes, ice climbing, ice diving
Evolution 2 run a selection of activities in Val d'Isère and Tignes. www.evolution2.com

Snowshoe Expeditions
Follow a local guide on snowshoes. Outings for all levels, whole or half day.

Ice Karting/ BMW driving
It's best to book in advance, Ice Karting 3pm-8pm, BMW Ice Driving 3pm-8pm. Call +33 6 23 04 46 58 or +33 4 79 06 21 23 or contact@valdisere-ice-driving.com

Parapente
Starts from the Bellevarde pistes. Available every day from €100 per flight, depending on weather conditions from 10.30-16.00, weather premitting.

Helicopter flights and transfers
A once in a lifetime experience! Discovery flight (5 mins). Espace Killy flight; High Tarentaise flight, or to fly around the Mont Blanc.

Skidoo trips
Not for the fainthearted! From €65 per skidoo. Every day from 10am – 5pm guided tours. Ask your Guest Serices Manager or visit the Cameleon hut at the foot of the Tommeuses lift. +33 7 77 99 45 77

Sledging
Val d'Isere does not have an official long toboggan run but there is a designated area for sledging next to the nursery slope to the left of the Savonette lift. Open every day from 10.00-17.00, it is the perfect place to take your children. Sledges can be rented from most equipment hire shops.

Courchevel
Aquamotion - it's really amazing!
This is the biggest thing to happen for non-skiers in Courchevel since we arrived there in 1982...

It's an enormous, beautifully designed building with enough to keep a non-skier occupied for a whole week! There are:

Indoor pools
Outdoor pools
Saunas
Massage booths
Steam rooms
Diving pools
River rapid slides
Salt pool
Hot tubs

See the Aquamotion page here for full details

Massage and Beauty
Several hotels in 1650 and 1850 offer massage and beauty treatments. We would recommend Pamper Off Piste, a British company who can visit you in the chalet and offer sports, deep tissue, foot and holistic massages, as well as facials, pedicures and waxing. Minimum of one hour of treatment per chalet is required. Discounts are available for multiple bookings with the same therapist.
06.17.60.89.02

Cinema
The Cinema Le Tremplin is in 1850 on the Place du Tremplin and sometimes shows English language films with French subtitles ('VO' or 'VOST'). Adults €9.90, under 12s €7 www.megarama.fr/tremplin

The Forum is a large multipurpose centre in 1850. Here's what they offer (aside from the shops!):

Ice Skating and Hockey
The ice rink ('Patinoire') offers daily skating 3pm-7pm. They also have special galas, ice dancing events and ice-hockey matches which are publicised in the 'Programme d'Animation' available in your chalet. The ice-hockey matches are fast, furious and amazing entertainment with the local team being one of the strongest in the region.
Skating for Adults is €5.10, children €3.40, skate hire €3.40. 04.79.08.33.23.

Bowling
The 8-lane bowling alley also has a bar and snacks. Open from 12h00 - 02h00 everyday. Quite expensive and be aware that they hike prices in bad weather! 04.79.08.23.83

Paragliding
Looking for a little more excitement than just skiing the mountain? Then why not jump off it? Join Craig, a British and French qualified instructor and enjoy a magical tandem flight, with stunning views across the valley.
Contact Craig - 06.81.64.69.70 or 04.79.08.43.65

Pleasure Flights
Several companies can provide you with your very own pilot and will whisk you off from the Altiport at 1850 – very James Bond! Flights range from 15 minutes above Courchevel to 30 mins taking in the sights of the Three Valleys below. Ask in resort for contact details.

Toboggan Run
Floodlit 3km run designed especially for sledges and toboggans. Departs from the top of the new Moriond bubble. it's a blast!

Snow Shoeing
This is an excellent way to keep fit and take in the mountain scenery at your own pace. Snowshoes are easy to use and provide much more stability than just normal boots. Most ski shops rent them out and will give you brief instructions and advice on how to use them. Poles are also usually required.
La Tania
This is the most child friendly of our three resorts and is where our childcare programme is based.

Courchevel - and all of its many activities - is just a bus ride away, see timetables in your chalet or online.

Aquamotion
There are dedicated buses from La Tania to Aquamotion, see timetables in chalet or online. If in doubt please ask your chalet host or Guest Services Manager.