Le Ski and wine...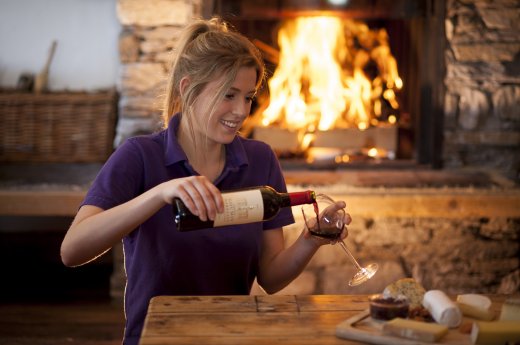 We like our wines...

A trip away to the mountains isn't just for the beautiful scenery and snowsports, it's also an opportunity to indulge in some delicious food and wine… we are in France, after all.

With your evening meals you can enjoy unlimited house red, white or rose, from bottles not boxes... or you can choose from our upgrade options with the Wine Lovers' package, detailed below.
Wine lovers' package
We like our wines and we know you do too as we manage to get through around 20,000 bottles of our house wine every season!

You can also choose from this excellent selection of upgrade wines. Look forward to a special treat on holiday by adding our great value Wine Lovers' Package to your booking.

Mix and match from the selection, with any 6 bottles of red or white wine or 4 bottles of prosecco for just £49.


How does it work?

Call 01484 548996 to add the Wine Lovers' Package to your booking.

We will send you a simple order form to complete to make your selection of wines.

Your wines will be waiting for you upon arrival to the chalet, Santé...

Wine Lovers' Reds

Domaine La Berthete Cotes du Rhone
This midweight Cotes-du-Rhone delivers exactly what you'd expect from this ever-popular region: lots of spicy, peppery, dark-fruit – perfect for winter drinking.

Bel Air Bordeaux Rouge
A lovely, juicy red Bordeaux from one of the most renowned wine families of the region.

Manoir Grignon Cabernet Syrah
A real crowd pleaser, this modern-style, medium-to-full bodied wine has lovely sweet spice from the oak alongside lots of smooth, soft, dark fruit.

Gran Fabrica Gran Reserva
Tempranillo – the 'Rioja' grape combines seamlessly with Cabernet Sauvignon to provide structure and Grenache to provide softness. Aged for 24 months in oak and another 36 in the bottle, the flavour integration in this wine is extraordinary.
Wine Lovers' Whites
Famille Bourgrier Tourainne Sauvignon
Delicious Sauvignon Blanc from the Loire Valley, just down the road from Sancerre. Lots of citrus and elderflower notes, along with riper tropical hints.
Robert et Marcel Les Pouches
A beautifully balanced, highly versatile, medium-weight white wine from the Loire Valley, made with the Chenin Blanc grape.
Marillier Macon Les Crays
The quintessential Chardonnay from southern Burgundy. Floral notes on the nose are followed by lemon, apple and a cosy vivacity on the palate.
Italia Pinot Grigio
Classic, mid-weight, unoaked Chardonnay from southern Burgundy- creamy, buttery yet fresh. Perfect with chicken and pork.

Prosecco
BelStar Prosecco
A great little sparkler from Veneto, Italy. It has a combination of ripe white fruit and floral tones on the nose. Very nice pineapple flavour too.