Skiing for beginners
We can help..!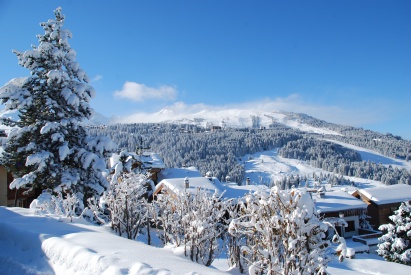 Top tips for first time skiers
It's the fear of the unknown…

How do you choose a holiday from the thousands on offer when you haven't got a clue what ski resorts are like, let alone what to wear?!

Let us help…01484 548996
If you'd like to know which areas we recommend for beginners, just call.
1 - Get some gear
Beg & borrow (don't steal!) from friends or do an internet search for companies that rent clothing. You can't usually rent clothing in European resorts. You'll need:
1 pair of gloves need to be waterproof and warm. Rent or borrow.
1 pair of salopettes – waterproof warm trousers made for skiing. Rent or borrow.
A jacket – a waterproof one is essential. You can add warmth underneath with jumpers if you have a good waterproof and windproof outer layer 'shell' already.
Layers – Take long sleeved Tshirts, fleeces and jumpers, tights or leggings to layer up according to the weather. You can buy proper thermals but they're expensive and you could make do with what you already own.
Socks – are kind of important… A few years ago, we wore tube socks without foot-shaped fitting. These aren't so good because of rubbing. Go for something thicker than a normal sock but not too thick as you'll have less control over your feet! (Racers often don't wear socks at all! Just imagine…). It might be better to buy these, and take a few pairs and some travelwash!
A hat – something warm that will cover your ears.
A pair of goggles – good for snowy/windy days. Rent or borrow.
A neckwarmer – scarves are quite bulky, so borrow or buy a special one that goes over your head. This will also cover your mouth on windy/cold days.
Sun protection – Proper sunglasses with sun protection, high SPF sunblock and lip balm are essential as the snow reflects the sun and you can burn easily even if it's cold.
2 - Get a lesson
Not many people successfully teach themselves to ski! Start with a couple of lessons in one of the many indoor ski slopes around the UK, which will give you an idea of what to expect and get the basics out of the way so you can enjoy the incredible scenery more when you get to the mountains!

Also book yourself onto a lesson/s in resort as it will give you confidence and you'll improve more quickly, and it'll also reduce the risk of sustaining an injury if you know what you're supposed to be doing with your arms and legs! Ski schools offer private lessons (good if you're nervous) or week-long group sessions (ideal if you need lots of encouragement).

You can practice with your friends the rest of the time. It's important to book lessons early from the UK if you're travelling in school holidays.

3 - Prepare to be frustrated

It's difficult, skiing. It takes practice and effort so sometimes you have to be prepared to grit your teeth and battle against gravity and other forces of nature! You'll ache in places you didn't know existed, and you'll probably get hot and sweaty. But (and it's a big but!) the feeling of exhilaration when you go all the way down your first run without falling is INCREDIBLE!

4 - Fuel yourself

When you expend a lot of energy, you'll need to eat more and drink a lot of water. Use this as your excuse to take frequent stops to re-fuel, either with a picnic or in restaurants/snack bars. One of the pleasures of skiing is having a well-deserved drink on a sunny terrace with your friends, and you'll genuinely notice the difference in your energy levels if you don't refuel!


5 - Laugh

Learning to ski is not the most elegant thing you'll ever find yourself doing. Take your camera and in a couple of years' time when you're whizzing down black runs with ease, you can have giggle over the videos of you grimacing whilst snowploughing at snail's pace!
How to save money as a
first time skier

We all know skiing holidays are not cheap, both with equipment and resort costs. Here are our tips on how to save yourself some cash:


Need a lift?

In order to go down, you'll need to get up first. Ski resorts feature all sorts of different lifts in order to take you up high. It costs them money to run them, so you have to pay for their service! However - you may not need a lift pass on your first day or two, depending on how quickly you get the hang of it as often the beginners lifts are free. Ask your ski school for advice before you go to the lift pass office.

Borrow stuff

Don't spend lots of money on new gear when you can borrow or make do with what you already have (see left).

Rent, don't buy

There are well-equipped rental shops which will kit you out with boots, skis/board, poles and a helmet. Until you decide you want to go again, it makes sense to rent. If your ski boots take a dislike to your little toe/shins then it's easy to go back to the shop and swap them. You can also rent clothing these days. Try: www.skitogshire.co.uk

Opt for a catered package holiday

With the current weakness of the Euro against Sterling, it makes sense to book a package holiday which will include flights, transfers and most meals. You can then relax properly (you'll need to!) and save your money for unavoidable resort costs like ski school, rental equipment and drinks/lunches.


Be fit and healthy

Injuries can be painful - and expensive. Although of course you can reclaim through your insurance, you may need a credit card to pay up front (you should always keep this on you whilst on the slopes). If you stay hydrated, take time to stretch, and do some exercise in preparation for your holiday, you'll significantly reduce the risk of injury. Promise.

Final thoughts…

You'll fall over. A lot. And you'll get really hot trying to get up again!
Your children will be better than you. Far better.
Hang on in there! By mid-week you'll be starting to feel pleased with your progress.
Skiing is highly addictive! It only takes a week to 'get the bug'...