La Tania
Click to browse our La Tania chalets - Click to watch our resort video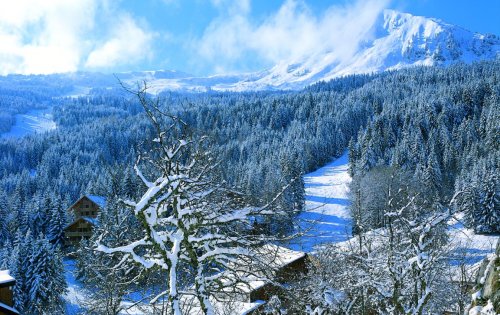 The Lowdown
600km of pistes
Child-friendly village
Highest lift: 3230m
5 Le Ski chalets
Our guests say...

'We keep returning as we love La Tania itself - the links to the vast Three Valley ski area, the quiet charm of the village, the tree lined runs and the family atmosphere'
- KC, by email
The Resort

Courchevel's little sister La Tania has
grown up to be an attractive and welcoming place since her inception in 1992 for the Winter Olympics. On the 80 minute journey from the airport into the village you'll pass the perilous ski jumps in Le Praz before entering the woods in which the village of La Tania nestles.

There are pleasant chalets around the horseshoe shape making up the base of the slopes, as well as a selection of French and English bars and restaurants, ski equipment shops and ski schools. This area is car-free, making it an easy place to wander with children after skiing.

You can view the live piste map by clicking here and selecting Ski Maps from the Live Information menu.
The Skiing
This pretty, family-friendly resort boasts delightful intermediate pistes. La Tania has easy access to neighbouring Méribel and the rest of Les Trois Vallées.

For beginners there are two magic carpet lifts for first ventures into skiing, moving up to long, winding greens and the undulating blue Folyères when they progress to the gondola.

For intermediates La Tania also offers a good selection of quieter runs and, within two lifts, access to the whole of the Courchevel valley.

For experts, there are long steep blacks leading down to Le Praz, and in the 'Dou des Lanches' sector, where there's usually some untracked off-piste. The tree runs into Le Praz and La Tania are the best place in all the Three Valleys to spend your time in snowy weather.

The lift pass office have a selection of passes to suit differing levels of ability.

For real beginners, there are free magic carpet lifts so that you can practice and not need to buy a pass until you're ready to go further afield. There are half day and timed passes also available for those who aren't up to a full day. Intermediate skiers can choose a Courchevel Valley pass which gives plenty of skiing. With this pass you can also 'upgrade' with a Three Valley extension for a day if you fancy heading into Méribel or beyond.

If you're a keen skier and want to go into the Three Valleys even once during your week, then it's worth opting for the Three Valleys pass which gives you access to the largest ski area on Earth! There are also family versions, pedestrian passes for non-skiers, discounts for children and seniors and freebies for the very young and err... 'extra-mature' skier!
The Rest

There's great access to the rest of the levels of Courchevel using the valley's free shuttle buses.

Entertainment could include iceskating, shopping or bowling up in 1850, not forgetting good old bumboarding which you can do closer to home.

La Tania is also a short bus journey from Aquamotion with indoor and outdoor swimming pools, spa and wellness, indoor climbing wall and much more...

There is a weekly entertainment programme in resort which our Guest Services Managers will keep you updated on. During peak weeks you can usually expect to see some impressive firework displays!

There's a mixture of French and British-owned bars, often featuring live music during après-ski or later in the evening.

There are a number of restaurants varying in price and menus, ranging from take-away crepes or chips, via pizza and steak up to Michelin-starred fare.

PLEASE NOTE: There is a medical centre but no pharmacy in La Tania so please make sure you pack a supply of essential toiletries and medication to take to resort.