Food & Wine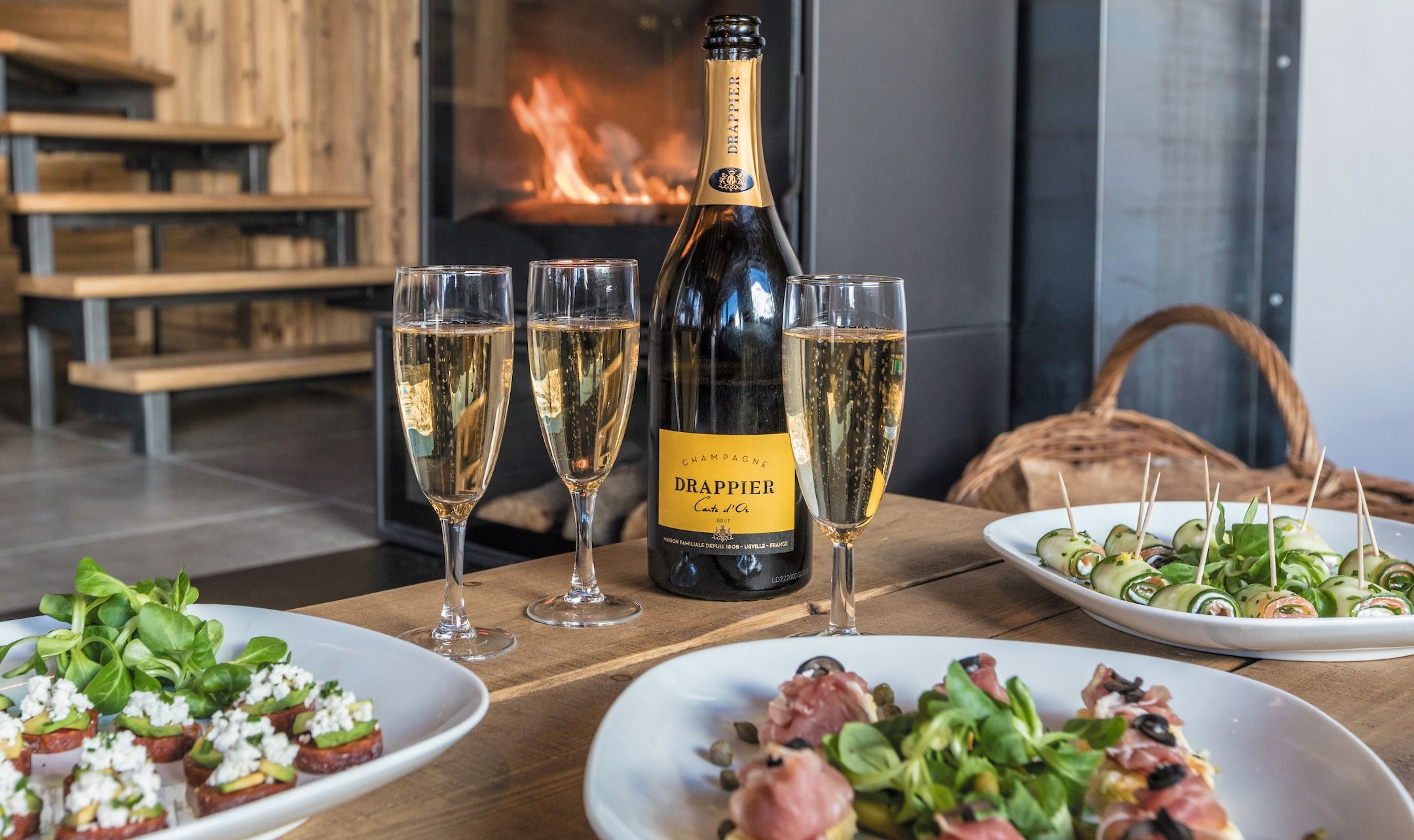 We take our food seriously

Chalet catering has moved on an awfully long way since the early days!

Your Chalet Host will be cooking and serving home-made breakfast, home-baked afternoon tea, canapes and three course dinners.

Alongside this delicious food you'll be served Champagne and unlimited red, white or rose house wines (apart from with breakfast...).


Breakfast

A hearty, substantial breakfast is vital before a day on the slopes so that's what we serve. Our morning feasts have really evolved over the last few years and we get lots of very positive feedback about them.

There's a tempting range of continental options, fresh crusty baguette and porridge as well as a cooked breakfast. There's a different hot option each of the 5 mornings when breakfast is served to you by your host (please note this will be different on our short breaks in January).

No compromise is made on quality - we serve Heinz baked beans and ketchup, HP sauce and real teabags from the UK! Breakfast is served from 08.00 to 09.00.

Afternoon tea

Tuck into tempting treats after your day in the mountains. Help yourself to a freshly baked cake or biscuits which will have been made by your host. There will also be fresh baguette, jams, tea and coffee to enjoy.

Champagne and canapes

Canapes and Champagne or fizz are served at 7:30pm as you unwind and relax for the evening. Our house Champagne is Drappier. We know the Drappier family and they are one of the most respected families in Champagne who make their top quality drinks using environmentally aware methods and only the best ingredients. Drappier is served on the first and last day of your holiday.

On the other evenings we serve a "methode Champenoise" made by our good friend and winemaker Nicolas Perret. Nicolas and family live just down the valley and provide all of our house wines too! Minimum wine miles, maximum quality!

Dinner
Dinner service is informal as we want you to feel at home in your chalet. Your chalet host will prepare and serve all your meals.

We work with local producers and suppliers to create an interesting and varied range of high quality home-made dishes.

Whilst you will never go hungry in a Le Ski chalet our staff have been trained in sustainability in the kitchen and we endeavour to keep food waste to a minimum.

After your three course dinner simply leave the table and relax with coffee and chocolates...if you have any room left!

Special diets
If there's anything you'd rather not eat, whether for moral, sensory or digestive reasons, please let us know before you travel. We won't charge you a penny extra for these special diets. Please call our UK office team on 01484 548996.

Children
We can serve dinner early for your youngsters who will likely be worn out after a day in the snow.

Your Chalet Host will prepare home-made, nutritious and fun dinners the kids will love!

Please let us know if you would like early dinner times or have special requests by calling us on 01484 548996.
Wine
We take our house wines very seriously and believe that they should be good enough to please every palate. We spend a long time each pre-season ensuring that the ones we choose are top quality, easy drinking wines. We only serve French wines in order to reduce our wine miles (or kilometres....).

We serve unlimited red, white and rose wine with dinner, from bottles not boxes! Choose your preference from the various different house wines we offer.

If you're looking for an extra special treat we also have an upgrade Wine Lover's Package. We have brand new options for winter 2022-23 with packages starting at £60.

Find out more about our wine and order your Wine Lover's Package – click here.

Chalet host days off

Your Chalet Host has two days off during the week (usually Tuesday and Friday). We will lay out continental breakfast and afternoon tea to help yourself to.

In the evening, it's a great chance to sample the local cuisine and your Guest Services Manager in resort will be happy to make a restaurant reservation for you.

Read our restaurant guide – click here.

Make an enquiry
Read more about Le Ski
About our staff