Family Skiing
(needn't be a nightmare!)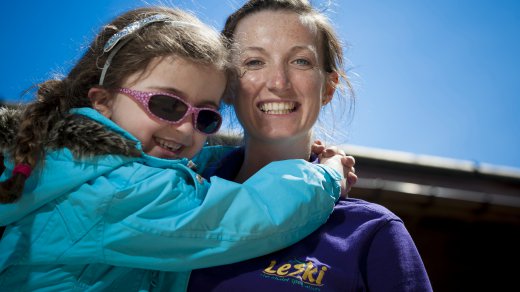 Full day childcare - £300 per week
6 months – 5 years inclusive
Mon-Sat 9am-5pm, includes lunch. Private nanny service in your own chalet.
6 - 12 years inclusive
Mon-Sat 9am-5pm, includes lunch. Organised group indoor and outdoor activities.


Lunchtime supervision - £150 per week
6-12 year olds, inclusive
Children are collected from ski school and given lunch (2½ hrs)
Childcare options in our resorts
Our most child-friendly resort is La Tania. The resort itself is perfect for children as the village is car-free and small and easy to get around. Our fully qualified team of nannies take care of your children whilst you ski.

For customers travelling to Courchevel or Val d'Isère we can recommend the private nanny services of Jelly & Icecream

There are also kindergartens in Courchevel and Val d'Isère.

Please feel free to call our office for advice: 01484 548 996.



Limited places so please book in advance

Children from six months to 12 years are welcome in our childcare programme and we have different arrangements for those under 6.

We adhere to strict carer:child ratios as advised by UK local authority guidelines. Our Childcare Manager is fully up to date with all procedures and legalities to ensure the safety of all children and will be on hand throughout your holiday for any queries or concerns.

Many activities take place indoors, but we also take children out to play in the snow as often as possible.

Child discounts
(age on departure date)

Courchevel and Val d'Isere
2-4 year olds deduct 15%
5-12 year olds deduct 10%

La Tania
2-4 year olds deduct 20%
5-12 year olds deduct 15%


Le Ski's childcare in La Tania
Our team of qualified nannies working in La Tania are well experienced in caring for children and have an activity programme organised by our dedicated Childcare Manager.

Leave the kids in our hands at 9am and they will be entertained, fed and cared for all day until 5pm, when they'll be full of stories about their day!

We also offer lunchtime supervision: we'll pick your children up from ski school, feed them a wholesome lunch and drop them off again afterwards. Back in the chalet, our experienced chalet staff will serve a healthy, hearty meal for their tea.


What will my children be eating?

Rest assured that your kids will be fed wholesome and nutritious meals whilst staying with us. Lunches could be jacket potatoes with baked beans or tuna; tomato pasta twists or baguettes with cheese or ham salad. For high tea in the chalet, our staff might prepare home-made chicken bites with broccoli and mini roasties, or perhaps shepherd's pie and sweetcorn. Puddings could be fruity jelly or a banana split. There is always plenty of fresh fruit and veg around for them to nibble on. Please make sure that you inform us in advance if your children have any allergies or intolerances, it makes life much easier for our chalet staff who will be happy to prepare an alternative menu.
What our guests say:
'Ellen the head of childcare was an absolute delight. The children adored her; she was exceptionally professional and looked out for my daughter as well as caring for my grandchildren. They had the best week ever - on the last day we were counting down the minutes to see her again!'
- Julie, Chalet Marmau, January 2017

'The head nanny came to our chalet on our first evening and was very reassuring. We only ever considered mornings as we wanted to spend afternoons as a family and this didn't seem to be a problem so we tried it. S absolutely loved it and all of the staff seemed fantastic. They all seemed professional and genuinely caring. So much so that we felt confident to go and ski ourselves whilst our other daughter was in ski school - something we have done very little of since having children!'
- Arran, Chalet Michele, January 2018

'Our daughters loved Amy. She was gentle, kind and lots of fun. Our experience of all the staff in the childcare team was excellent.'
- Angela, Petit Marmau, February 2017