Restaurants in resort
Our favourites...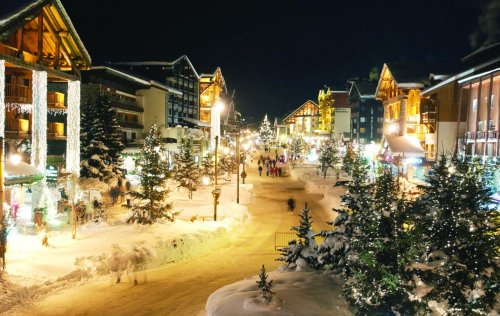 Lunch and dinner recommendations

Here are the places recommended to us by our guests and staff.

Your chalet will also have a Resort Information Folder which will contain other recommendations, as well as a guidebook produced by the tourist board on all the restaurants in the resort.

Please ask your chalet host or guest services manager if you'd like help booking a table.
Courchevel & La Tania Village

COURCHEVEL 1650 (MORIOND)

Petit Savoyard
This atmospheric and friendly restaurant serves all the classic Savoyard dishes.
Tel +33 4 79 08 27 44

L'Eterlou
This is run by Jacques and Francoise who have been great friends with Le Ski for over 30 years. This newish venture features good fresh food at reasonable prices and there is a good wine list too.
Tel +33 4 79 08 25 45

Schuss Bar
This is a popular bar with our guests looking for a quiet drink in an attractive setting - next door to Intersport. Also worth a visit at lunchtime as they have a sunny terrace.

Copina
A brand new bar - we've been and we love it! It's exciting to have this new tapas and cocktail bar in Moriond. There are lots of fabulous cocktails and interesting tapas. A very welcome addition to the village.
http://copina.fr/courchevel/

Bistrot Le "C"
Something different...plenty of choice in this interesting restaurant hidden just below the centre of Courchevel Moriond. Not just your average French food, lots of interesting options. There is a great wine list too!
Website here

La Cabane
As it sounds, this is a cabin in the centre of the village. There's an interesting cocktail lsit, decent music and Belgian beers. Good for pre dinner drinks.


COURCHEVEL 1850

Le Chabichou
A Michelin starred restaurant. Expect high prices and top quality cuisine!
Tel +33 4 79 08 00 55
http://www.chabichou-courchevel.com/en/#menus-bistro

Le Chabotte
Just below its big brother, Le Chabichou, in every sense Le Chabotte is a different kettle of fish. Firstly it's much cheaper, secondly it's a different feel altogether and lastly it's very good food at reasonable prices (for Courchevel 1850!)

COURCHEVEL 1550

L'Oeuil de Boeuf
This cosy cow-themed place serves huge slabs of meat cooked on an open fire. Not recommended for veggies.
Tel +33 4 79 08 22 10
http://www.restaurant-loeildeboeuf-courchevel.fr/

COURCHEVEL 1300 (Le Praz)

Les Peupliers
Very tasty and innovative food, an excellent wine list and a warm friendly welcome. Highly recommended. There's a nice outdoor area so it's also ideal for a leisurely lunch in the sun.
Tel +33 4 79 08 41 47
http://www.lespeupliers.com/en/#restaurant

L'Azimut
Great little restaurant, Michelin star without pretensions. Or many tables…so book early.
Tel +33 4 79 06 25 90
http://www.aubergedelapoutre.com/uk/restaurant-azimut.php

L'Elephant
Very popular bar serving pizzas. Regular live bands.

LA TANIA

La Taïga
This British-owned restaurant, just below the centre of the village, is generally busy but it's for a good reason – good food at decent prices in a nice setting.
Tel +33 4 79 08 80 33
www.easytaiga.com

Le Farcon
Michelin starred restaurant, centrally located in the middle of La Tania. Excellent food. Book in advance
Tel +33 4 79 08 80 34
www.lefarcon.fr/en/

La Ferme de La Tania
Traditional cosy Savoyard restaurant at the foot of the slopes.
+33 4 79 08 23 25 for reservations.

Les Marmotonnes
Pizzeria at the foot of the piste. Cosy atmosphere, no bookings in advance possible.
The Rest of the Trois Vallées
Mountain Restaurants

Le Bel Air (Courchevel 1650)
Located at the top of the Ariondaz bubble lift, this mountain restaurant has a famous sun terrace and not unreasonable prices for the tasty fare. Christophe makes a wonderful patron and the vin chaud is reputedly the best in the valley!
Tel + 33 4 79 08 00 93
http://www.belair-courchevel.com/restaurant.php

Le Bouc Blanc (La Tania)
Handily placed at the top of the La Tania bubble, this is the best value on the mountain. There's a warm welcome from friendly staff and delicious, hearty food.
Tel +33 4 79 08 80 26

Le Blanchot (Méribel)
Fabulous food and wine in this relaxed restaurant next to Méribel's altiport.
Tel +33 4 79 00 55 78
http://leblanchot.com

Le Clos Bernard (Meribel)
If you can find this restaurant you'll love it!
https://www.restaurantleclosbernard.com/en/

La Ferme de Reberty (Les Menuires)
Excellent food at decent prices – dessert fans will be spoilt for choice! The house wine is great value.
Tel +33 4 79 00 77 01
www.lafermedereberty.com

L'Oxalys (Val Thorens)
Innovative food and impressive service at this well positioned restaurant on the pistes in Val Thorens.
Tel +33 4 79 00 12 00
www.montagnettes.co.uk/restaurants-winter/jean-sulpice-restaurant.html

Val d'Isère restaurants

Village restaurants

La Grande Ourse
This restaurant has moved to the centre of the vilage! Great food, lovely atmosphere, excellent wine list. Friendly service. Very good fresh fish too. Tel +33479 060019
www.grande-ourse.com/restaurant

L'Etincelle
New last year, this is a top place to visit for lunch or dinner. Booking for dinner necessary. Excellent food and wine and a great ambience in this very chic restaurant with fabulous views just above the old Solaise cable car.
Tel +33 4 79 41 13 11
www.letincellevaldisere.com

La Vieille Maison (La Daille)
Cosy, rustic restaurant sitting handily between Angelique and Kanjiroba. Great atmosphere and service. French rather than Savoyard food.
Tel +33 4 79 06 11 76
http://www.resto-lavieillemaison.fr/english/

La Barraque
On the main street. Great food, lively atmosphere, live music. Booking is essential. Can be noisy, but it's a good noise!
+33 4 79 06 18 19
http://www.restolabaraque.com/

La Taverne d'Alsace
Excellent and varied menu in this comfortable restaurant with a great buzz about it. Situated right on the main street. Tel: +33 4 79 06 48 49

Lodge
If you want good, simple food and excellent value look no further than Le Lodge. Book ahead as it's always busy. Tel: +33 4 79 06 02 01
www.lodgebar.net

Gourmandine
Great Savoyard food, nice burgers. At the Rond Point du piste.

Mountain restaurants

La Folie Douce (Val d'Isère)
Probably the best self service food in the French Alps. Funky new décor and massive granite tables indoors, huge sun terrace with live music outdoors. Handily placed at the top of the La Daille bubble – in case you overdo the vino!
Tel +33 4 79 06 01 47
www.lafoliedouce.com/val-disere/en
Les Tufs
At the foot of the slopes in La Daille. Good value lunch menu.

Peau de vache
At the top of the Bellevarde chair halfway up la Face. Very tasty burgers.

Le Signal
Fine dining restaurant serving French cuisine and desserts. The best Vin Chaud on the mountain.
Tel +33 4 79 06 03 38

Bar de L'Ouilette
Chilled out friendly place near the top of Solaise.
Tel +33 4 79 41 94 74