Premiere Neige Clinics
WITH PETER HARDY AND PAT ZIMMER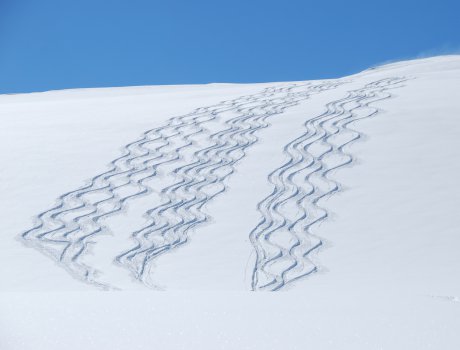 When are our premiere Neige clinics this year?


Week course
Saturday 30/11/19 to
Saturday 7/12/19


Mini break course
Saturday 7/12/19 to
Tuesday 10/12/19

Read Peter Hardy's blog to find out more about these very special clinics
Premiere Neige Ski Clinics
Le Ski have been running these special clinics with Pat Zimmer, the founder of Top Ski and Peter Hardy, Britain's most informed ski writer for over 20 years.

Read Peter's Blog to find out more about the Premiere Neige course
Video tuition

These clinics are a fantastic opportunity to prepare for the winter season with brilliant video tuition when the mountains are nice and quiet.
Where are they?

Accommodation is in our splendid
Val d'Isere chalets which all have ensuite baths for aching limbs as well as our fabulous outdoor hot tubs.

Both the week and mini break will take place in Val d'Isere, giving us acess to a lot more skiing.
How do I book?

Please give us a call on 01484 548996 and we'll talk you through it.

What's included?
Flights and transfers
Half board chalet accommodation
Ski passes
Superb, intensive, tuition
Evening video analysis
How much does it cost?
Full week
Twin occupancy £1299
Sole occupancy of a twin £1599

Mini break
Twin occupancy £759
Sole occupancy of a twin £919

View typical accommodation
Here are some comments from previous guests:

"We went on the mini-break clinic with Le Ski and it was superb. The attention to detail was excellent, the service was exemplary, the chalet was comfortable, clean and the hosts were attentive (they could cook too!). The holiday was fantastic value for money and we would recommend Le Ski unreservedly."
Anonymous, Feefo, December 2017
"Last November was the 5th ski clinic we have been on. It didn't disappoint! No matter how long you've been skiing there is always something to learn and the video feedback is really useful. After a good day's tuition, skiing and fun it's nice to relax and come back to a roaring log fire and three course meal courtesy of Le Ski. We always look forward each year to the November clinic as the start of our ski season, brush up on our technique and have fun along the way. See you in November!"
VM, November 2014
DECEMBER 2019 FLIGHTS

PLEASE NOTE WE CAN ALSO OFFER MANCHESTER FLIGHTS (ON THE WEEK COURSE ONLY)
WEEK COURSE
Outbound Gatwick Geneva
Saturday 30/11/19
EZS 8464 08.10/10.55

Return Geneva Gatwick
Saturday 7/12/19
EZY 8473 15.00/15.35

Outbound Manchester Geneva
Saturday 30/11/19
EZY 1949 07.35/10.35

Return Geneva Manchester
Saturday 7/12/19
EZY1952 16.35/17.30

MINI BREAK COURSE
Outbound Gatwick Geneva
Saturday 7/12/19
EZY 8468 11.35/14.15

Return Geneva Gatwick
Tuesday 10/12/19
EZY 8485 21.35/22.05