Pampering
Ski hard, relax in style...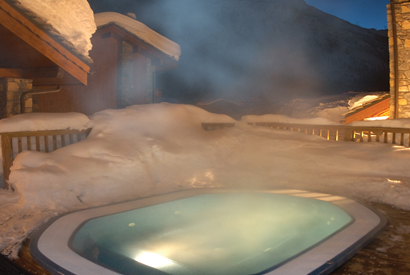 It's important to relax after skiing!
That's why over half of our 31 chalets have access to either a hot tub, sauna or steam room. Perfect for relaxing those tired muscles after a hard day on the hill!
Our facilities are well-maintained with daily checks and chemical tests for the hot tub. This sometimes means that we're not able to keep all our facilities open all day - please ring for further information.
Courchevel
We have beautiful steam rooms in the following chalets: Caribou, Premier de Cordée, Passe Montage, L'Orchidée, Irma

Sauna facilities are available in Le Notus, Mazot, Bisolet.

Maurilisa has an outdoor hot tub. As well as a fabulous mosaic-tiled steam room, which also has a choice of lighting, L'Orchidée has a huge hot tub and relaxing area with a walk-in shower.

Our Scalottas Lodge chalets (Marmottes, Eterlou, Blanchot, Bouquetin) all have whirlpool baths in the master bedrooms.