Chalet Assistant -Position Filled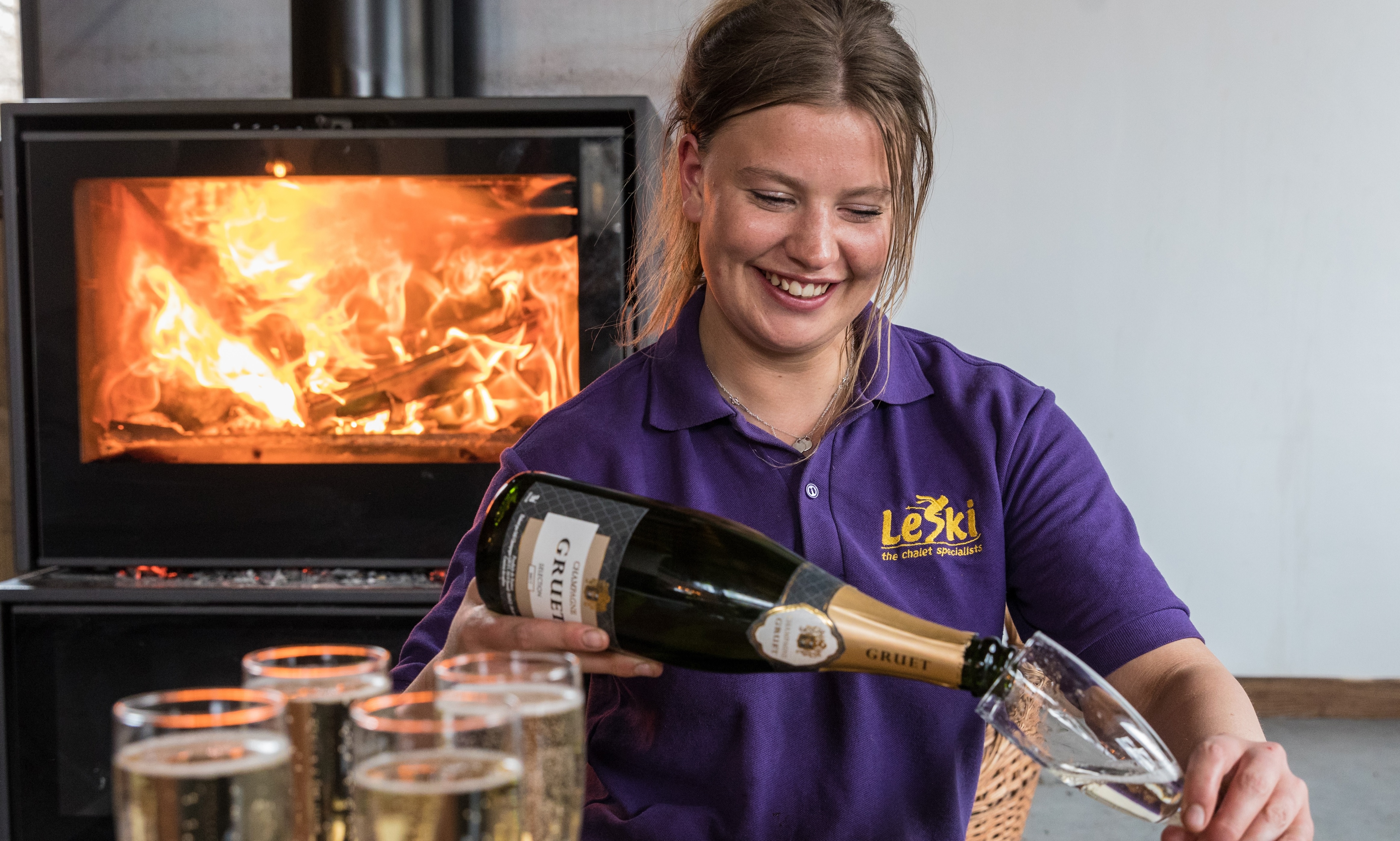 Chalet Assistant
In Courchevel 1650 and La Tania we have larger chalets which cater for up to 22 guests. We have teams of three staff working together in these chalets to make sure our guests are well looked after.

It's a fun and sociable atmosphere in these chalets and you'll have a varied job - looking after guests, cleaning the chalet and cooking kid's teas.
What we're looking for

In our larger chalets we tend to have two Chalet Hosts who concentrate on catering and one Chalet Assistant who takes a lead on front of house and cleaning.

Front of house
Whilst the Chalet Hosts are busy cooking and plating up dishes in the kitchen, you'll be busy serving the meals and keeping a check on the guests - if they need more wine and water etc.

You'll need to be able to make our guests feel welcome and chat comfortably with them whilst serving and at meal times.

Cleaning
We'll be honest, there is a lot of cleaning! It's up to you in your chalet team to decide how to divide jobs between yourselves but you will be largely responsible for the day to day cleaning in the chalet. A good level of fitness is a must!

Cooking
Throughout the season and particularly during school holidays, we have children in the chalets. It will be your job to cook the kid's teas.

Whilst the food is relatively simple, you should be confident to cook for up to 10 children.

If you want to help a bit more with baking afternoon tea and dinner, we are happy for you to!
A typical day
You will start work daily around 7am to help the chalet hosts who cook breakfast. You will serve this to the guests from 8am.

After breakfast, whilst the chalet hosts bake afternoon tea and prepare dinner, you will clean the chalet. It's important the bedrooms and communal areas are kept spotless!

Finishing around 11am, you're free to ski or do as you please during the day!

Afternoon tea is laid out for guests to help themselves.

In the evening, you'll return to work at the same time as the chalet hosts to serve fizz and canapes, followed by a 3 course home cooked meal.

It's a real dinner party atmosphere in the evening and you'll be encouraged to join in with your guests - many will invite you to dine with them or join for a glass of fizz.

Since you take a lead on front of house duties, you'll be checking on the guests and chatting to them throughout the evening as they enjoy their dinner - we want to make sure they feel special!
An ideal candidate for this job is...
Personable - you need to be a real people person. Getting to know guests is so important to make them feel at home.

Professional - we are proud to receive a lot of excellent guest feedback so we set high standards for catering and customer service.

A team player - you'll be working closely with two chalet hosts so you need to be cooperative and work well with others.

Proactive - you must be on the ball and have a good attention to detail, particularly during dinner service to spot what needs doing e.g. keeping water and wine topped up.

Essential requirements
We will be looking for work experience in hospitality, customer service, cleaning and cooking.

You must be able to confidently cook 2 courses for up to 10 kids.

You should be available from late November to mid-April.

Please Note: we accept applications from British passport holders however the rules for working in France have changed after Brexit. To check your eligibility and find out more, click here.