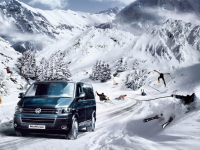 Val d'Isere Shuttle Service

Dan Brocklehurst 20-Jun-2019
This year in Val d'Isere we will be providing our own comprehensive shuttle service in the mornings and afternoons to get you to and from the pistes in comfort and style. The Volkswagen minibuses are all 4 wheel drive so you don't have to worry about the snow hindering your journey and with a ski rack on the back you will have plenty of legroom in your ski boots.
As this is our service, it means that guests who have hired their skis from anywhere may use the shuttles; we want everyone to get skiing as quickly as possible! While this doesn't mean the end for our long-standing friendship with
SnowBerry
it does mean that we will also be recommending
Eskiador
, which is located on the main road just down the hill from the Cacholet chalets.