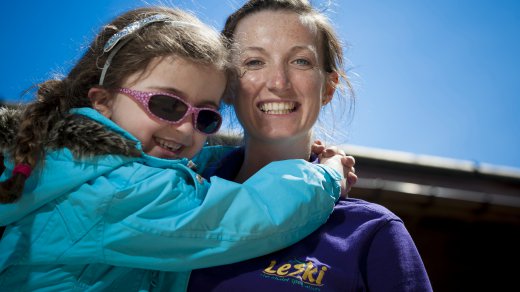 Your Ski Tips & Advice: Skiing with Children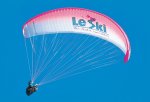 Le Ski guru 28-Jan-2016
We asked you what ski tips and advice would you offer someone going on a family skiing holiday with children
.
We had an amazing response and here are 40 of the best tips we received:
1. Jo Wimble-Groves:
Choose a company that will take care of everything for you. Learning to ski isn't the easiest sport to master and you will get tired of an evening, so choose a catered chalet with childcare services that takes all the stress away.
2. Angela Hadwin:
Take a small ruck sack with you with snacks, a small drink, little boots, spare gloves. Let your child take off their ski boots when you stop for lunch, and let them rest - they soon bounce back.
3. Cath Greenaway:
Put your mobile number in their pocket and drill into them to go to the nearest lift when (not if) they get lost!
4. Andrew:
Don't forget to download TV programmes onto their tablets before you leave home as, even if the wifi is pretty good the location won't allow you to watch UK TV shows.
5. Steve Presdee:
Please don't let any child ski alone no matter how confident, how safe you think the run to be or how nice the weather is, accidents happen sometimes out of our control but you can reduce the risk.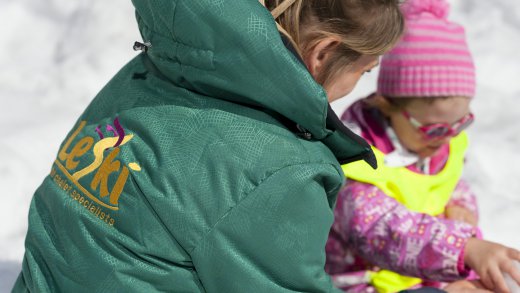 6. Sarah Worthington:
Have a trial run of the clothes in a snowdome before you go so you can buy extras of anything before you hit the slopes for real.
7. Peter Mason:
Do ski-school in the mornings even if it means early starts for you - and don't be late collecting them! In the afternoon let them show you where they've been and what they can do.
8. Lisa Leslie:
Always ask if there are steps to and from your accommodation to the slope. We've had steep steps out a boot-room and then to a road then a lift! Too much faff with kids in ski boots and poles flying!
9. Cath Greenaway:
Ski school, don't try to teach them yourself it will be a disaster.
10. Richard Wilkinson:
Make sure the kids learn to ski in the UK before going abroad. The best time is during the summer when it's cheap and quiet. Then ski all year round in the UK maybe once a month or so as a family. The holiday will be so much easier and it will all be second nature for the little ones.
11. Jane Salida:
Take spare gloves so at lunch they can change as they will probably be wet by then
12. Clare Raw:
Leave skis and boots as close to the lifts as possible. Even if this means hiring a locker. Trying to carry your own and little skis can be an absolute nightmare.
13.Neil Crawshaw:
After skiing with two children under four I highly recommend stocking up on Bombay Sapphire or Grey Goose for those aches and pains (yours!)
14. Claire Linney:
Skiing in France? Driving is a lot easier with children than flying, you can stop whenever and take everything you need including frozen homemade dinners for whole week.
15. Steve Presdee:
Most importantly. ...enjoy a great holiday with your children. See them smile & glow!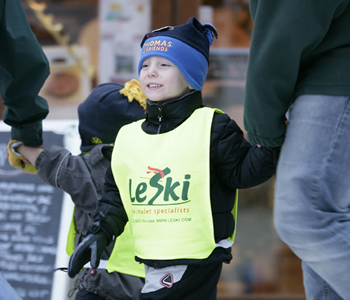 16. Jane Salida:
Don't expect them to do loads of skiing with you in the afternoon - they get tired easily and half way up a mountain is not the time you want to hear they can't do it anymore
17. Lisa Leslie:
Buy the brightest ski jackets you can fund so you can pick them out in a ski school or in a crowd.
18. Ian Mitchinson:
One adult leads to muster points on the runs, while one brings up the rear. Stay on an agreed couple of runs so the kids get familiar with them. Once they are, agree to meet at various points to give them more freedom.
19. Loretta Marsh:
Tell them what they should do if they get lost (Stay put!). Write your mobile number in laundry pen inside their ski jacket and make sure they know it's there. Pop a piece of paper with your resort address in the pocket with their lift pass.
20. Andy Bowern:
Never do lessons for kids in the morning! Have a more leisurely morning, with a few easy hours and a nice lunch, then you don't have to have grumpy kids in the afternoon and you get to ski all afternoon
21. Peter Mason:
If it's a new or challenging route try and stay close together, but let them explore. Agree stopping points like post numbers, pylons etc. and then they can lead the way but beware of following 'wicked paths through trees' where they can duck under branches and you can't!
22. Clare Raw:
Invest in good quality, well-fitting ski wear and equipment. It does pay off in the long run. You can always sell it on when they outgrow it.
23. Loretta Marsh:
Suncream. All day Factor 50 whatever the weather in the morning and put it on when getting dressed. An SPF lip salve in the pocket. Preferably tied on!
24. Zoe Giles
The thing that is going to make my life easier with a 2yr old is a 'soft structured baby carrier'. For example the make we like is a Tula toddler carrier.
25. Tony Cave:
Employ a nanny to take /collect the kids from ski school leaving you free to ski all day and have a break from the kids.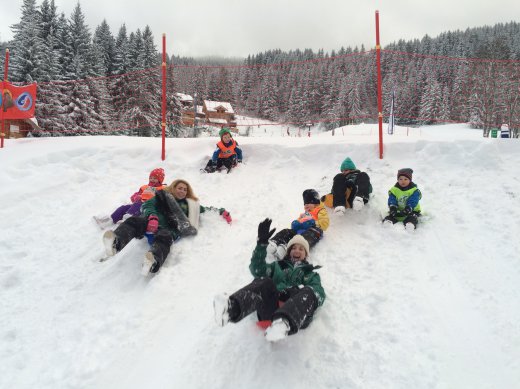 26. Michelle Marshall:
Make sure you use Le Ski creche for your kids as they really are the glue that keeps the family holiday together and they always ensure the kids are happy, smiling and laughing
27. Lisa Leslie
Write your name, hotel/chalet name, and mobile number on a slip of paper and pop it in their ski jacket pocket or write it on the name tag bit.
28. Priscilla Jones:
Make sure you fill their pockets with snacks like mini chocs for ski school and lip salve is a must!
29. Loretta Marsh:
Choose accommodation that makes it easy-peasy to reach the lifts, slopes and ski school with minimal walking with ski boots on or carrying skis. This means a very short walk (less than 50 meters), if ski-in ski-out then make the ski-out appropriate to everybody's skiing standards.
30. Emma:
Book them into lessons with New Generation. They are the best. Children do not even notice they are learning as they are having too much fun.
31. Lisa Leslie:
Don't expect much from little people in the afternoon if they have been in lessons all morning. DVDs, colouring, iPad time and a snowball fight might be their limits.
32. Simon Harding:
Get gauntlet style gloves...long cuffs stop snow getting in
33. Carolyn Elias:
My granddaughter's gloves have elastic attached that goes over wrist so the gloves are always attached, she's 4 and not once had to go back for dropped gloves..
34. Emma:
Don't overdress them. Nothing worse than being too hot. Send a snack in the pockets.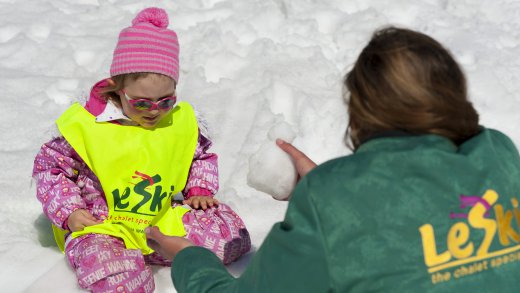 And finally these were some of our favourite comments…
35. Peter Mason:
I'm still skiing with my children now they are in their late 30s. They pay these days!
36. Clare Raw:
Wine and lots of it, everything seems better after a drink! Also the second year is always much easier.
37. Sheena Niven:
Just stay safe and enjoy the experience. They soon out ski you!
But the winner of the £50 John Lewis voucher, with these fine words of wisdom is Brian Ellis:
38. Put your kids into a creche. Enjoy your day skiing on the mountain. ??
39. If your kids are older and can't ski. Put them in ski school. Enjoy your day on the mountain.
40. If your kids can ski. Take them with you. Enjoy your day on the mountain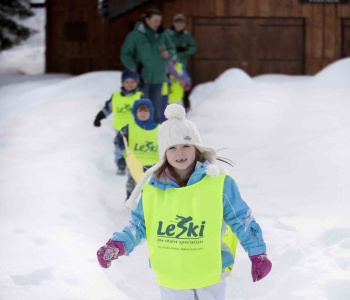 For more details about chalet holidays for children and adults in Courchevel, La Tania and Val d'Isere, please contact the Le Ski team.