Ski Chalets 2020-21





OUR PREPARATIONS ARE COMPLETE FOR THIS COMING WINTER...






The picture is getting clearer
President Macron has announced that French ski resorts will remain closed until mid January.
So our plan is to start our overseas operations on Sunday 24th January 2021.
Guests with a booking for a departure date prior to that are being contacted and arrangements made to either refund them or defer their trip. Sincere thanks to them all for their understanding.

Le Ski are a strong company
Le Ski are ready for winter 2020-21.
Many chalet operators have either not made it through the Covid crisis or have dramatically reduced their programmes. We have kept the same chalets and are still a strong company because of the understanding of our guests and chalet owners. We are immensely grateful for the faith they have both placed in us.
This level of trust in our team is wonderfully reassuring.

Money back guarantee
None of us can be certain what will happen this season, but In the event that we can't operate your holiday because of the effects of Covid19 on travel, you will be offered the choice of a deferral or a refund. If we can't refund you, our ATOL and ABTOT guarantees will come into force and so your money is safe.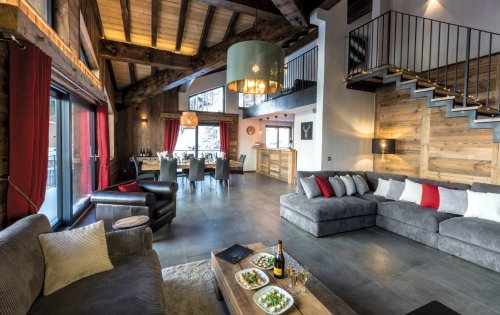 It's been quite a year but our guests are clearly pretty resilient!

Le Ski are still offering their whole programme of 33 catered chalets with flights and transfers.

Please call 01484 548996 with any queries, no matter how trivial it may seem - we like talking to our guests!
What's included on a Le Ski holiday?
Full details of everything we include on our holidays are here. Please note that for 2020-21 we are continuing with 5 days catering in all our chalets and providing canapes on all those nights with either Champagne (Sunday) or fizz (other nights).
Give us a call on 01484 548996 or mail@leski.com to find out more.
Loyalty discounts
We count ourselves very lucky to have such loyal customers who choose Le Ski for their ski holiday out of all the other operators.

Here is how our loyalty scheme works:

If it's your third holiday with us in a five season period we'll give you 10% off.

Please note that loyalty discounts only apply for holidays taken in the last 5 years and to full priced bookings. Discounts of over 20% cannot be combined with loyalty bonus.
FREE places for groups


These group discounts are for 2020-21 bookings made from 1st August 2020.
Courchevel

Eagle's Nest (10) 0.5 free place
Le Notus (10) 1 free place
Prem de Cordee (10) 1 free place
Rikiki (22) 1.5 free places

La Tania
Le Rabel (23) 2 free places
MarMau (23) 2 free places

Val d'Isere
Kanjiroba (10) 0.5 free place
Belle Etoile (10-12) 0.5 free place
Angelique (12) 1 free place
Bel Air (14) 1 free place
Roc Merlet (14) 1 free place
La Saulire (14) 1 free place
Bellevarde (14) 1 free place
Du Berger (16) 1.5 free places

Please note that you must fill the chalet at the time of original booking. Later additions will not count towards free places.

As well as our usual free places for filling a chalet we'll also be offering HALF A FREE place for every 8 people booking in Val d'Isère chalets Bellevarde, Saulire, Roc Merlet, Bel Air, Du Berger and Angelique so you don't even have to fill the chalet, just find seven friends...