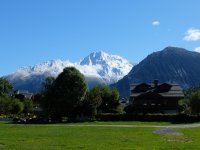 Summer at Le Ski

Summer Reporter 07-Jun-2018









Summer at Le Ski
Believe it or not the winter of 2017/18 is over, despite record snowfall and skiing still being available in the
Bellevarde
area, opening for a brief period this June for the first time in the history of Val d'Isere.
Our Alpine team have returned to the UK office and have started recruiting for the next winter season, it might seem like a long way away to most but here at Le Ski we're always thinking about snow! If you know of any aspiring cooks, or fancy spending the winter months in the mountains yourself, then please feel free to head out to our
recruitment page
for more information.
Time is also slipping away if you would like to book a holiday on our heavily discounted
early booking offers for the 2018/19 season.
We are already 40% full for next winter so make sure to get in touch if you want to save your favourite weeks.