Join Pat Zimmer, Peter Hardy and Le Ski to be the first back on the slopes this winter season.

For all of us passionate skiers that next turn is never more than days away, and it doesn't matter whether that's 100 days away or tomorrow! After last season's unfortunate curtailment, getting back on the snow has never seemed so important.

This winter, your first turns can be on or off-piste from the very beginning of the season. Our courses will be running from the very first day of the season in Val d'Isère. If you're staying for the full week you'll arrive on November 28th, and we'll be catching the first lift onto the mountain the following morning.

Firstly, you'll want to know about the virus safety situation and how it will affect your holiday. The good news is that because Val d'Isère had a highly successful summer ski season on the glacier in June and July so they've already tried and tested the necessary precautions. They promise these won't create lift queues or lead to any reduction in ski terrain or the flow of skiers around the mountain. Yes, you'll be required to wear a mask on lifts and in socially-distanced lift queues, but otherwise, your skiing shouldn't be affected.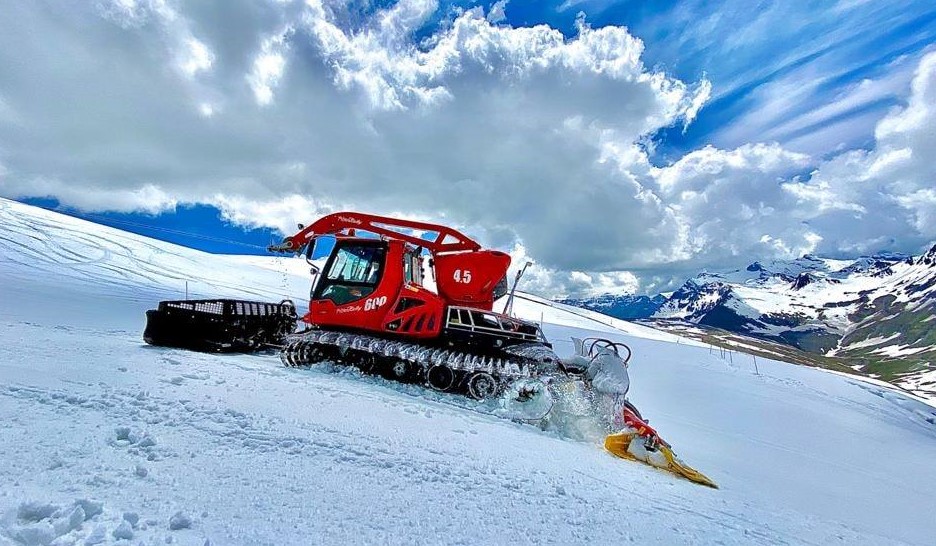 Successful summer ski season in Val d'Isere (CREDIT: Pisteurs Secouristes de Val d'Isère)

Not everyone is an expert, and not everyone wants to be one

But, to get the most fun and enjoyment out of a ski holiday you do need to reach a general level of proficiency. Your aim is to be able to ski all slopes comfortably, regardless of the snow or light conditions.

Alternatively, you may already ski to a high standard but want to improve and learn new skills such as off - piste. It all comes down to finding a combination of the correct equipment, technical skills and a belief in your own ability.

The classic complaint of so many skiers goes like this

"When the sun is shining and the piste is freshly groomed, I feel I'm now a really good skier. But as soon as the light goes and the terrain gets bumpy, my technique falls to pieces and I'm all over the place."

That's where Pat Zimmer and his team of instructors come in. It's a bit like taking your car to the garage: you may need a complete engine overhaul, or just a bit of fine tuning and an MOT. Pat has the uncanny ability to spot what is wrong with your technique immediately and, most importantly, he can show you how to put it right easily.

How good do I have to be to come on the clinics?

Our courses are highly intensive, but extremely enjoyable. Small groups, (usually six in number, maximum seven) are divided according to skill and experience. Precise attention is paid to the individual's needs throughout the whole course.

You need to be able to ski linked parallel turns with confidence and in control down a blue run, and at least try to do the same down a red run. If you find you've under- or overstated your level, we can adjust the groups after the first day.

If you want to ski in the same group as your partner or friend, that's not a problem. However, you'll both have to join the group suited to the lower level of the two of you.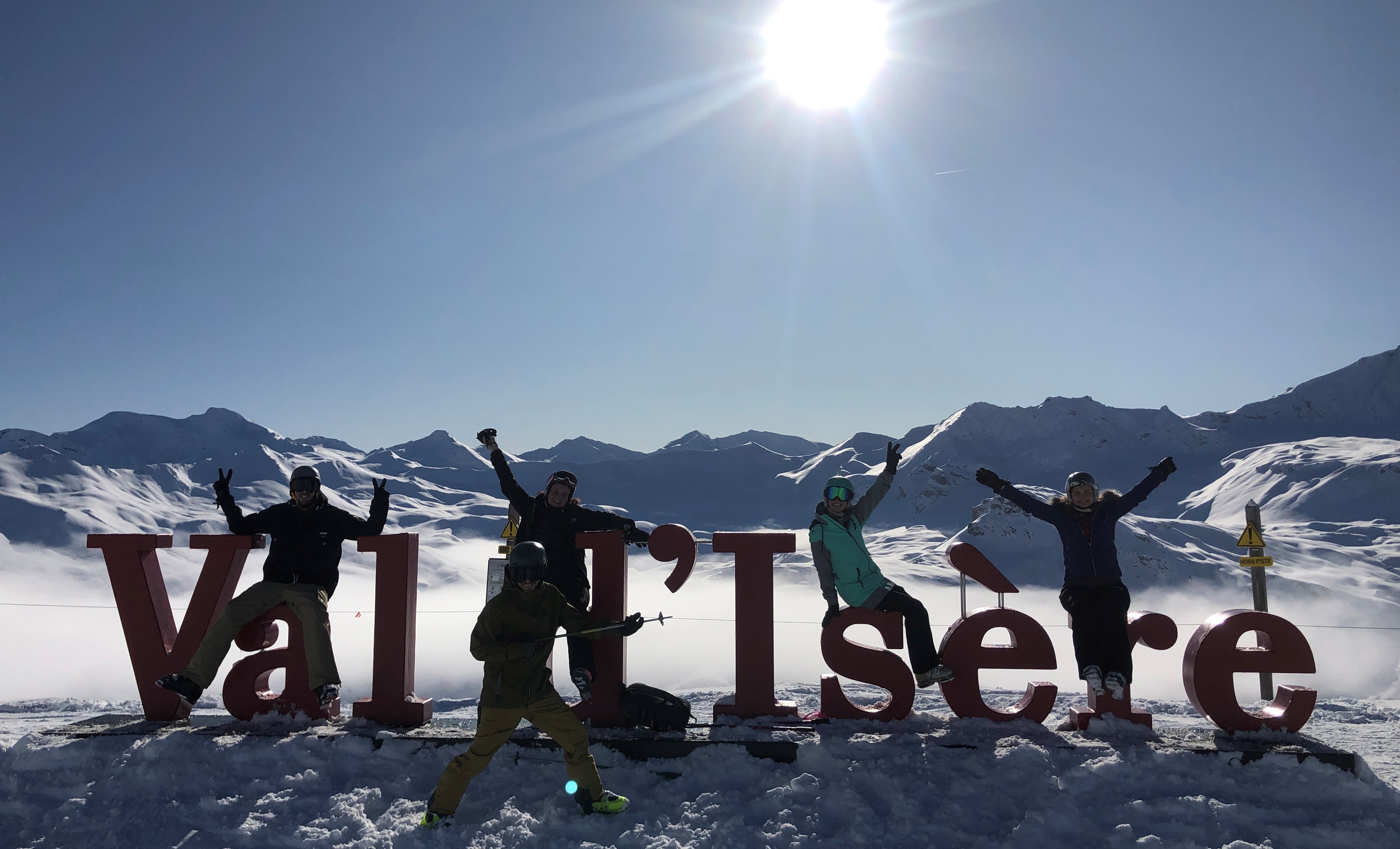 Fantastic pistes in snow-sure Val d'Isere.

Find your level for the group courses

On piste - I'm an intermediate skier.
Given good snow and visibility, I am happy and confident on all blue and red runs. I'd like more practice and tuition to help me to ski these comfortably and in control as well as easy blacks.

On piste advanced - I'm a competent parallel skier.
I ski comfortably with confidence and in control on all red and blacks runs. I'd like to learn how to ski steeper slopes, to develop some carving skills, and to explore the full variety of advanced terrain. If off-piste conditions are easy, I'm ok skiing just off the side of the piste.

On piste & introduction to off piste - I'm confident to ski the whole groomed mountain, I have some easy off piste experience.
I'd like to gain more technique and experience in all terrain, improve my off piste skills and try easy ski touring. Learn the basic safety rules and to use a transceiver.

All terrain & off piste improvement - I'm a strong skier on all terrain and confident off-piste given good snow and visibility.
I'm ready to ski off piste, whenever it is possible. I'm looking for fresh challenges and I don't mind the odd climb to access a perfect slope. I'd like to improve my ability to handle steeper terrain and changeable snow conditions. I want to learn and improve snowcraft, safety and security, including the use of transceiver, shovel, probe, and airbag.

New course! Freerider Heaven
I like to ski fast and furiously in my own (younger) age group and lifestyle with a like-minded (younger) guide who's equally prepared to really go for it and find me fresh challenges all day long.

We introduced this group last winter with enormous success, working with charismatic instructor Raph Evin and his friends. You can join for a short break, a week, or even the full ten days!

Something else?
If your needs don't fall into any of those categories just tell us what you're looking for. Even if your skill level doesn't reach the minimum standard required, we are still happy to have you along, but you'll need a private instructor (at extra cost), one to one or with friends. We can offer everything from the return to skiing after injury to race training or a made to measure programme.

The package

Prices include: flights, transfers, chalet half board, accommodation, video tuition and lift passes

- The choice of a full week or a 3 day mini-break

- Flights and dedicated transfers from Geneva

- A high level of cuisine and comfort in Le Ski chalets in Val d'Isère

- Exceptional level of service provided by Le Ski's friendly staff

During the full week, Le Ski staff are rightly entitled to a bit of down time and so we'll eat out one evening there's a wide choice of restaurants (this dinner is not included in the holiday price).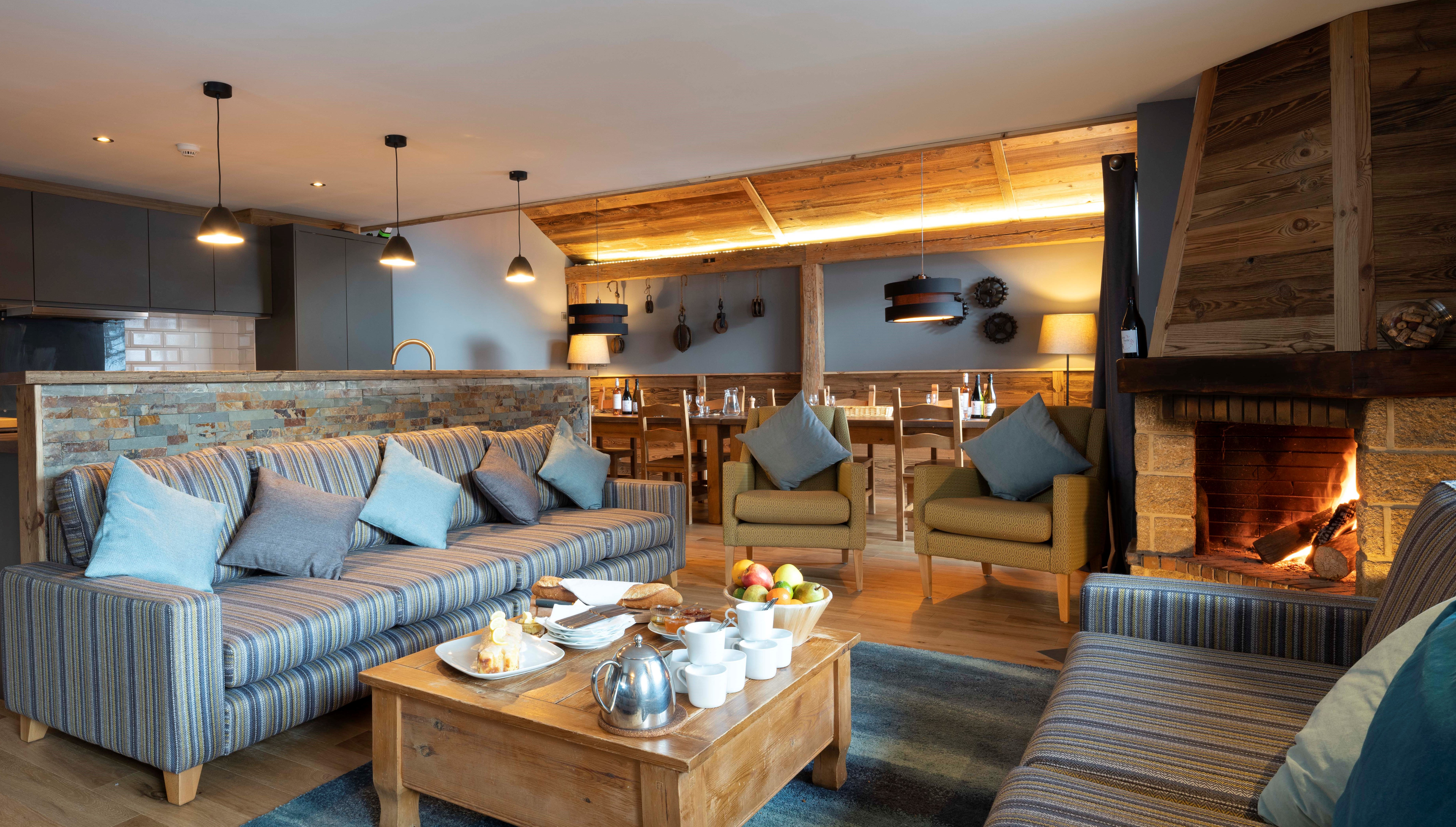 Le Ski's Chalet Bellevarde, Val d'Isere.

Vast amount of ski terrain
If you haven't visited recently, a lot has changed in Val d'Isère. Mountain access is easier and quicker with two new high-speed cableways as well as the Olympic gondola. The old Solaise chair was replaced a few years ago by a smart new gondola and another one in La Daille brings you up to the Folie Douce in just a few minutes.

We'll ski largely on the Val d'Isère side of the giant ski area that the resort shares with Tignes. There are no worries about sufficient snow cover; if nature is being tight with the volume of the natural white stuff, Val has its own excellent glacier. Of course, we may choose to ski over the ridge and play on the Grande Motte or elsewhere in Tignes.

Guaranteed snow cover
Snow and weather conditions at the beginning of December are always in the lap of the gods, but it's worth pointing out that Val d'Isère has the largest snowmaking plant in Europe. It's so sophisticated that it can pump out enough artificial snow to cover the equivalent of Wembley Stadium to a depth of half a metre in one hour…or the whole mountain here in one week.

A typical day
The courses are intensive…
Somebody once said that the clinics fall slightly short of being an actual holiday, but are nevertheless thoroughly enjoyable, a chance to ski and socialise with like-minded people in a relaxed and friendly chalet atmosphere.

The day begins with a hearty breakfast in your chalet. After breakfast, you'll be taken to the slopes by Le Ski's shuttle service. At precisely 8.55am we meet Pat and the other instructors at the foot of the steps of the Sun Bar, situated between the Olympique and Solaise gondolas. It's unfair to keep others waiting, so your group will leave on time and if you're late you'll need to phone your instructor to arrange where to meet on the mountain.

Generally the groups meet up for lunch in the self-service restaurant of the Folie Douce, where we have arranged a special menu with loads of options at a remarkably low price. At around 4pm we return to the village and catch a bus or Le Ski shuttle home.

During the course of the day - if weather conditions permit - your instructor will video each group in action. Back at the chalet, there'll be detailed video analysis - it's not as scary as it sounds and you can see for yourself what you (and everyone else!) is doing and get some useful tips for the next day.

Analysis will take place in your chalet immediately after skiing, allowing plenty of time to relax or enjoy other activities in the late afternoon and early evening. Dinner is at 7.45pm and Pat, the other instructors, and myself usually join you. Only the fittest will have the energy to venture out again after dinner, but there's nightlife for those who want it!

By all means bring your own equipment with you, but we offer premium boot and ski rental, with the chance to test a range of the season's new skis.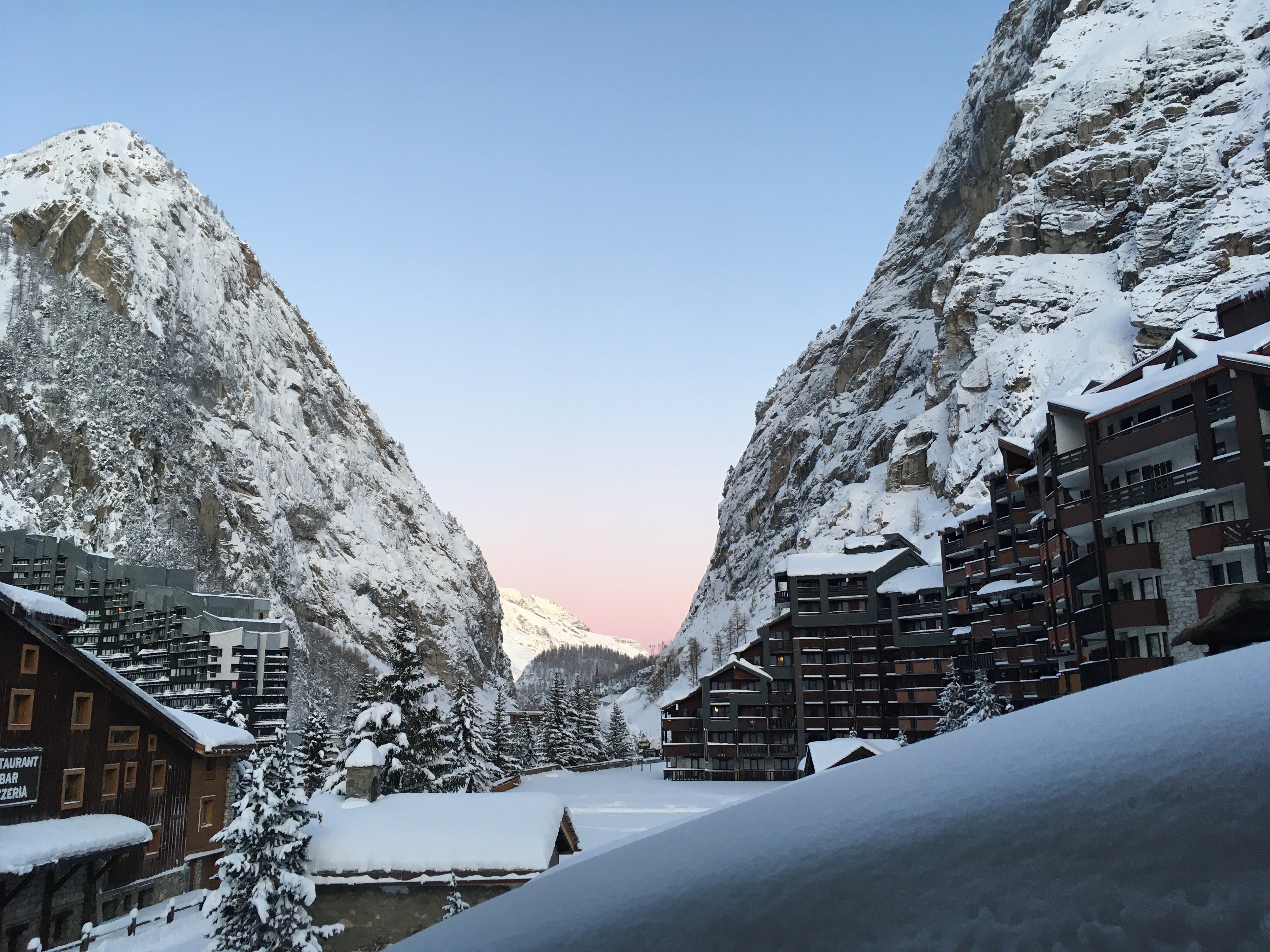 Heaps of snow for last year's ski clinic, 2019.
Who we are
Pat Zimmer is a former French racer who founded the first independent ski school in France. He lives in Val d'Isère and skis mainly off-piste during the winter with private clients. His undiminished enthusiasm for skiing means that he's equally happy teaching technique to a nervous intermediate as he is guiding a group in the steep and deep. Pat is recognised as one of the greatest of European ski gurus, with an uncanny ability to read snow conditions and a wicked sense of humour.

Peter Hardy is Britain's best-informed ski journalist and co-editor of the ski information website www.welove2ski.com. He describes himself as a ski nomad whose travels have taken him to more than 500 resorts around the world. Pat got him back on snow after a serious accident 20 years ago and ever since he's been extolling the virtues of tuning technique with his guru at the start of each season. The two of them are a bottomless and amusing mine of information on the sport they love.

Our team of enthusiastic instructors
Much the same as usual! They concentrate on teaching a simple, stylish technique that can be used on and off piste in almost any snow conditions. They have the uncanny knack of not only being able to pinpoint what is wrong with someone's technique, but can also usually provide a simple solution.

For full details on these special courses, visit our website by clicking here. To book, or for more details, call +44(0)1484 548996 or e-mail deborah@leski.com.