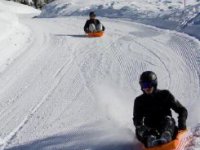 Ready, Sleddy, Go!

Dan Brocklehurst 20-Jun-2017
Courchevel 1650 is getting its own luge track!
New for the 2017/18 season, Courchevel 1650 will be getting its very own 3km long luge track! Running from the top of the new and improved Ariondaz bubble it will wind down the mountain passing through 4 underground tunnels before returning back into Courchevel 1650. With the slope of the luge track reaching 25% gradient in parts it's going to be a fast ride the whole way down, only the bravest lugers (of all ages) will be able to take on this behemoth of a track!

The good news is, if you're up to the challenge, there will also be the option to luge at night! Currently scheduled for Tuesday and Thursday evening (these may change!) lugers will be able to take the Ariondaz bubble past normal lift closing times to get to the start of the track and descend a now floodlit course, there are even hints of colour changing lights!