It's a big question - should you rent or buy? What do you think?


We want your advice - should you rent or buy?

THIS FEATURE HAS NOW CLOSED. RESULTS WILL BE POSTED SHORTLY.
Many skiers and snowboarders battle with this conundrum every year.

Ski carriage can be expensive (although at Le Ski we only charge £35 return), and a pair of ski boots in your baggage can easily take you over the 20kg limit. However, you can be sure of a good, well-maintained pair of skis and comfortable ski boots.

On the other hand, hiring is fewer bags & less weight to carry, but can cost more in resort. At Le Ski, we only work with reliable and experienced ski hire shops, but in some resorts the skis and boots you are given may not be so good.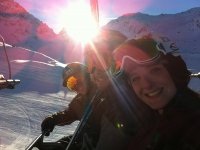 What would your advice be for someone unsure whether to rent or buy? Whatever your views, share them with us and we'll pass it on!

Win a £50 John Lewis voucher

Just complete the form below with your views and advice. The best will be published on our blog, and the winner - chosen by the Le Ski head office team - will receive a £50 John Lewis voucher.

So please send us your tips (before 16 March), including as much detail and an image or link if you'd like, and you could be a winner.